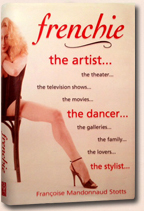 FRENCHIE, THE ARTIST

Winner of the FAPA President's Book Award!
Printed in America
© 2012 by Francoise M. Stotts

Price: $15.00 + Shipping
Author's note: WARNING!
Don't be surprised if some of my sentences seem to read different. It's not you! It's me. I wrote this little book like I still speak… With a French accent!

Reviews:
This is a story of a life lived well and fully. Would that we all had Frenchie's spirit of adventure, willingness to embrace change and joie de vivre. Formidable!
Carrie Seidman, Dance/Art Writer, Herald-Tribune Media Group

Formidable, Frenchie! Legendary Françoise Stotts (Les Folies Bergères, Claude Lelouch's ("Les Uns et Les Autres") puts the ultimate cap on her stellar careers dancer/ choreographer, busy stylist and successful artist-by penning her explosive memoirs…Riveting, raucous, and ultimately moving. A grand tale.
Catherine O'Sullivan Shorr, Emmy award-winning editor/director ('Andy Warhol's Factory People')
Françoise has always succeeded at anything she set her mind on. Now, she succeeds again with her book about doing it all, with a true French style!
Kay J. Wight, former Vice President, CBS News
Frenchie is a Movie!
Patrick Nagle, Founder Sarasota Fringe Film Festival-Chairman
PGE Films/Paris
Toe shoes on the dance floor, head in the star, an arabesque of a life of art and creation, and it is not over…
Dominique Mandonnaud, creator of "SEPHORA"
Frenchie brings a sense of style, elegance and glamour from the world of dance and show business to everything she does!
Tony Zanetta, Author of the "David Bowie" story

Also now available as an e-book!! Click to purchase via Amazon Kindle, Barnes & Noble Nook.

Once called "one of the most talented classical dancers in Europe," Françoise Mandonnaud Stotts was born in Limoges, France, became an American citizen and lives in Sarasota, Florida. Hand-picked by Roland Petit to join his world-famous ballet company, Françoise (whose theatrical nickname is "Frenchie") toured the U.S. and performed as a featured dancer throughout Europe on stage, television and in the movies. She was last seen dancing on "STAR SEARCH 88". After pursuing a second career as a photo stylist in the U.S., she embarked on a third career as a fine artist. Her paintings have been exhibited in galleries, one-woman-shows, art festivals and art centers in Williamstown, MA, and in Sarasota and Bradenton, FL. "Frenchie…the artist" is Françoise's first book and the story of a colorful and extraordinary life fearlessly lived… and yours to enjoy!